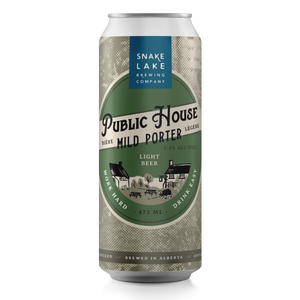 Luscious and nutty with notes of milk chocolate. Brewed with predominantly British roasted and specialty malts and English ale yeast.
3.4% alc/vol, IBU 21, SG Higher, FG Lower, SRM Dark
We're happy to carry on the longstanding culture of pubs (or "public houses") as places to gather, play, and take refuge – while indulging in a pint or two, of course! For as long as pubs have thrived as community hubs, "mild" beers have been on tap. Modern milds are distinguished by their typically dark colour, predominantly malty flavour, and an ABV between 3–3.6%.

*Please note* – this one's a four-pack! You'll get four tall cans (473mL).
DELIVERY NOTES:

Price includes bottle deposit. Must be 18 years of age or older. ID will be checked upon delivery.

Customers outside of Sylvan Lake must order at least four items (bottles, six packs etc.) to qualify for delivery.
Media
Looking for extra insight into our beers? Check out our featured videos on The Drive's Friday CRAFTernoons.
Ask for Snake Lake wherever you buy beer!
Don't see us on the menu at your favourite watering hole or on the shelves at your neighbourhood liquor store? Put in a good word!
Proudly from Sylvan Lake
Born and raised nearby, we've been lucky to be a part of this town's rich history of work and play. We source our ingredients from nearby producers, give back to the local economy, and invest in the growth of this impressive community.